NEWS
eCLICK HERE FOR 2017 - 2018 NEWS
New Street Signs!
Posted June 4, 2019 The first batch of road signs have been installed!
The signs were approved by the majority at the last annual WICA meeting. The signs have been hand made and installed by Rachael. This will help keep our visitors going where they are supposed to! We hope!
A BIG "THANK YOU!, to Rachael!
Notice
Posted May 30, 2019
VIWMA ANNOUNCES MORATORIUM ON SCRAP METAL COLLECTION
AT BOVONI LANDFILL
The Virgin Islands Waste Management Authority (VIWMA) Preserving Paradise team advises the community and solid waste haulers that scrap metal collection at the Bovoni Landfill is on hold effective immediately, as the Landfill is over capacity in its scrap metal area and cannot accept any additional metal at this time.

In the interim, maintenance of the scrap metal area will take place. This will help to maintain a well-organized and safer environment.
The Authority will resume accepting scrap metal on Monday, June 3, 2019.

The VIWMA Preserving Paradise Team continues to work diligently to provide reliable services and would like to thank the community for their patience and cooperation.

For more information, contact the Office of Communications Management at 340-513-4171 or email communications@viwma.org.


Attention!
Posted April 24, 2019
LIEUTENANT GOVERNOR ROACH ANNOUNCES IMPORTANT MEETING FOR AARP-VI MEMBERS PREVIOUSLY COVERED UNDER REAL LEGACY ASSURANCE COMPANY
The Division of Banking, Insurance, and Financial Regulation in conjunction with AARP -VI advises the public of the next general membership meeting hosted by the St. Thomas AARP Chapter #3138. The meeting will be held on Saturday, April 27, 2019at the Schneider Regional Medical Center, Sun Room at 1:30pm.
Important information for policy holders previously insured under the Real Legacy Assurance Company whose coverage has been transferred to NEMWIL Insurance Company will be discussed. All policyholders are welcomed to attend to receive detailed information on the claims process. This is the second meeting hosted by AARP-VI. The first meeting was held on March 9th by the St. Croix AARP Chapter.
A presentation on the new AARP Homeowners Insurance policy will be made by representatives of NEMWIL Insurance Company to address concerns that members may have regarding the recent transfer. Staff from the Office of the Lieutenant Governor Division of Banking, Insurance, and Financial Regulation will also attend the meeting to answer questions and provide information to those impacted by the change.
The Division of Banking, Insurance and Financial Regulation can be reached at 340-773-6459(St. Croix) and 340-774-7166(St. Thomas) for additional information.
Delegate Plaskett Meeting Recap
Posted April 15, 2019
April 11, 2019
Recap of Delegate Plaskett's Water Island Visit on April 7, 2019
Our delegate arrived on Water Island on the 9:30am ferry accompanied by staff members Barbara Petersen, Cletis Clendinen, and Kyza Callwood and a security officer.
This was Delegate Plaskett's first visit to Water Island.
Mary Dunakey, Chuck Gidley and Joanne Bohr conducted a tour of Water Island covering almost all of Water Island and a drive through of Sprat Bay.
We pointed out the mail room, explained our 'mail service' and our 'library'. (In fact, Ms Plaskett was interested in a book there and we insisted she take it.)
The roads demonstrated the need for repairs and we asked that the status on FEMA funding to be addressed in the meeting.
Although not a federal issue per se, we showed her our waste transfer site and critical need for tires/oil and white goods to be removed as EPA issue.
The Fort, the WISAR boat, and Flamingo marina were also on the tour, ending at the firehouse in time for the 11AM meeting to start. Ms. Plaskett greeted everyone entering as 'Stacey" and asked good questions upon meeting our community. It was well attended
The topics discussed:
A/ Water testing at Honeymoon Beach as other Beaches are tested
B/ Post Office
C/ Roads
D/ Specific FEMA listing of approved projects (and status) on WI
In addition, Barbara Petersen was able to give some history of various topics before and during the meeting.
We finished with a final tour onto the beach where WICA hosted their lunch which was a good opportunity to chat informally as well.
The feedback of the meeting received from our community has been so very positive. "Knowledgeable", "impressive", "approachable" were some of the comments.
Our delegate explained her role as a Congresswoman, projects, and committees on which she serves—that are various and extensive. To view more about our delegate please visit her website https:Plaskett.house.gov
We hope to have our Delegate return, especially for those unable to attend this meeting.
Joanne Bohr
President
Water Island Civic Association
Opportunity!
Posted April 10, 2019
IMPORTANT ANNOUNCEMENT!!!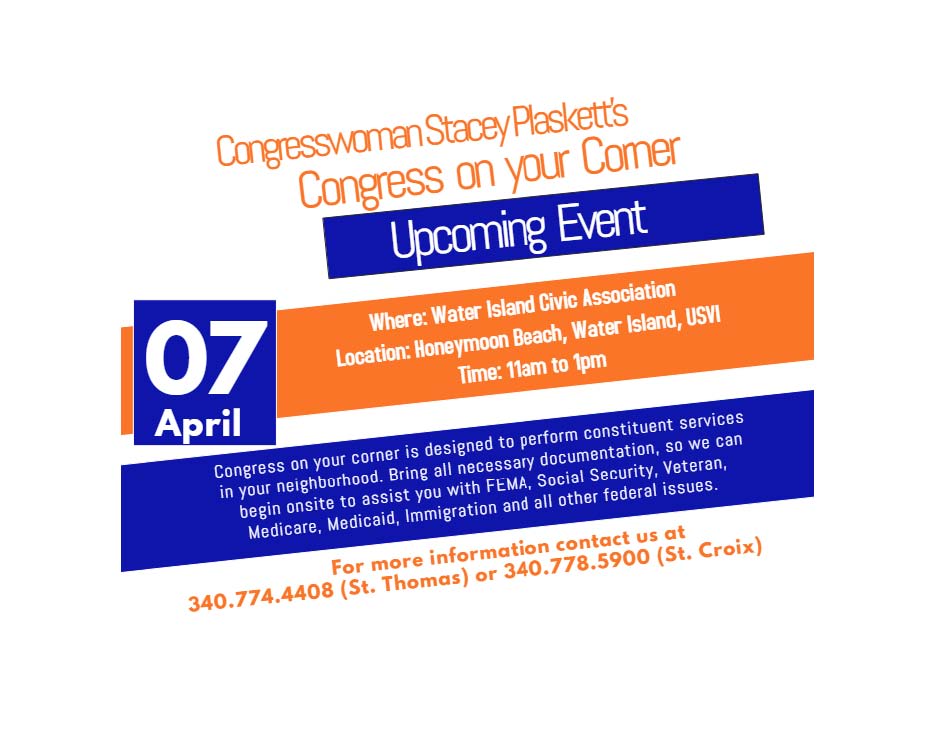 Posted Saturday April 6, 2019 The location to meet Congresswoman Plaskett tomorrow has changed. It is now at the Water Island Firehouse at 11AM.
ATTENTION!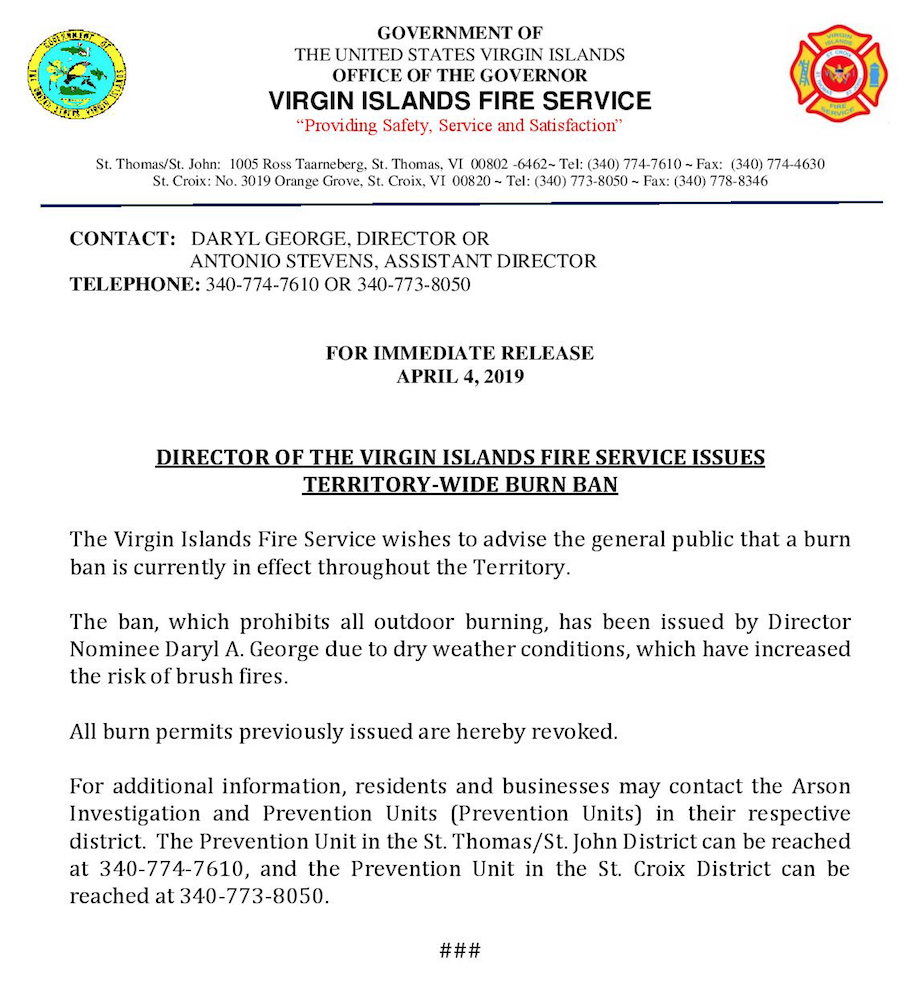 Mark Your Calendars!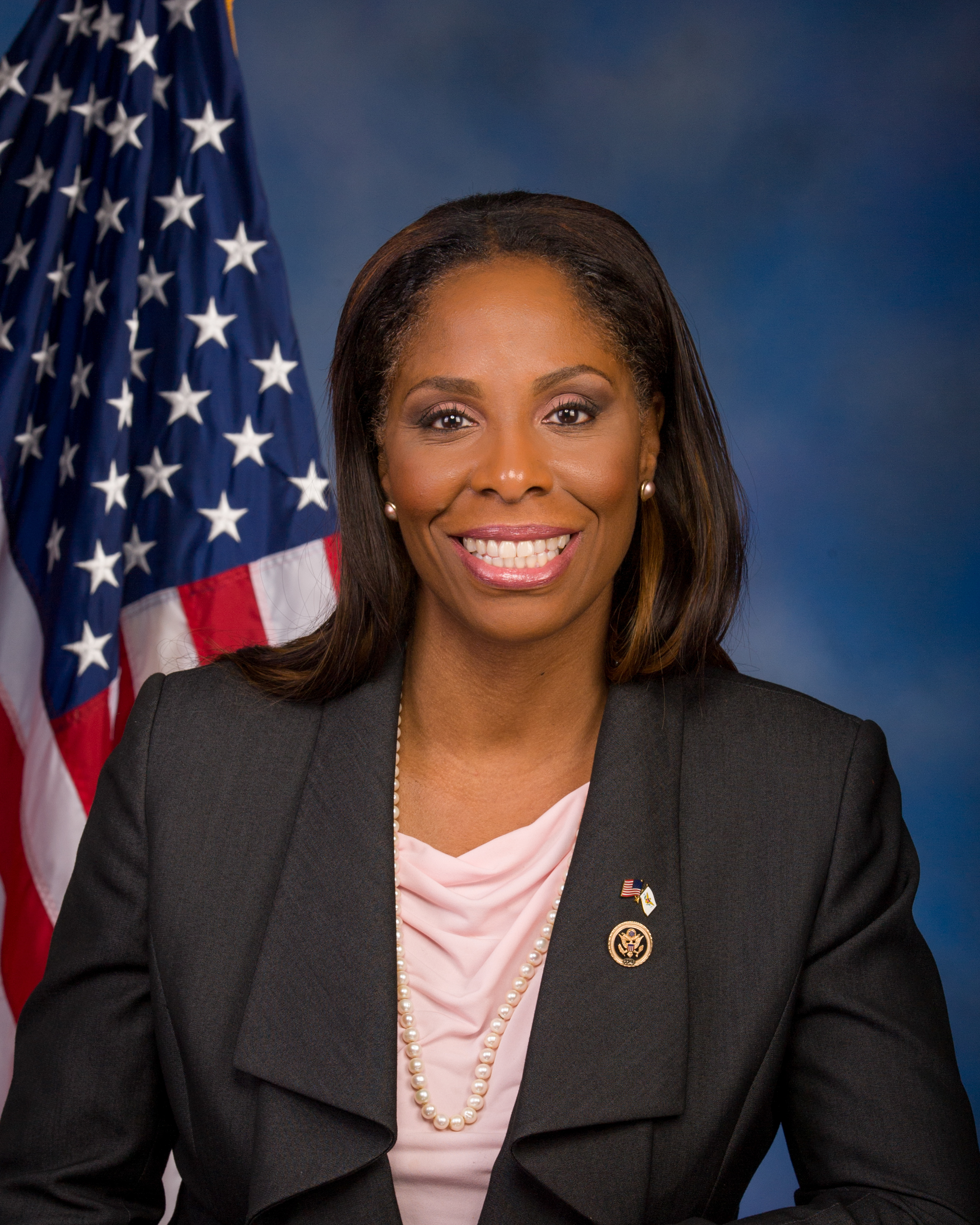 Posted March 28, 2019 Mark it on your calendar! Sunday, April 7, 2019 at 11:00AM on Honeymoon Beach! Through the efforts of our WICA president, Joanne Bohr, and Barbara Petersen, Congresswoman Stacey E. Plaskett will visit Water Island to meet our residents.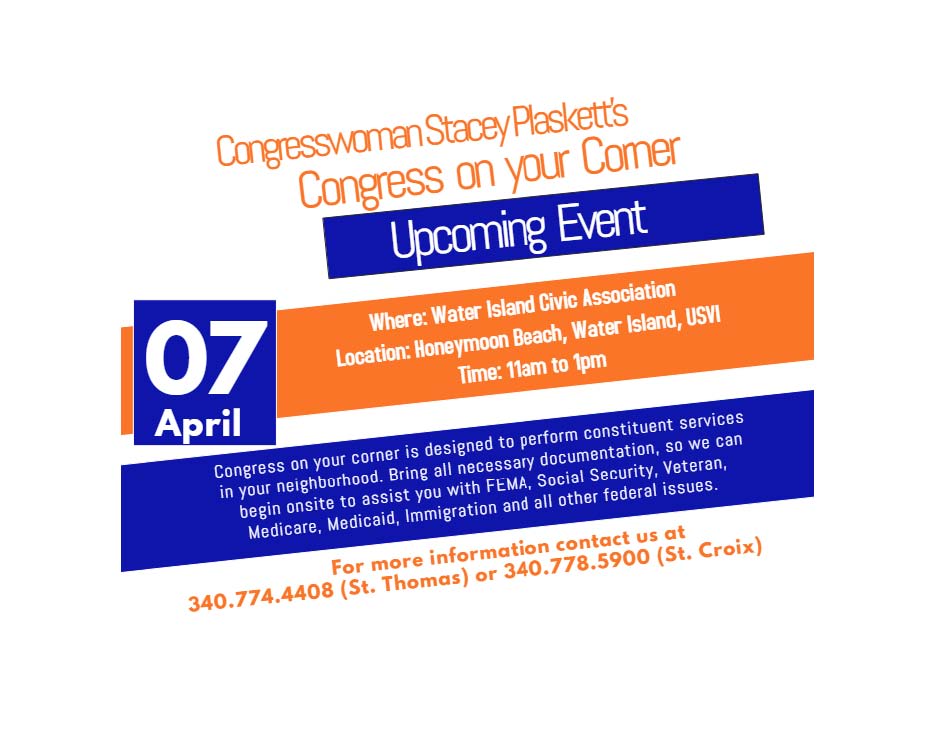 Congresswoman Stacey E. Plaskett represents the United States Virgin Islands' at-large Congressional District in the United States House of Representatives. Stacey currently serves on the House Transportation and Infrastructure Committee and the House Committee on Agriculture. She is also a member of the House Committee on Oversight and Government Reform, where she serves as Ranking Member on the Subcommittee on the Interior, Energy, and Environment.
Very Sad Announcement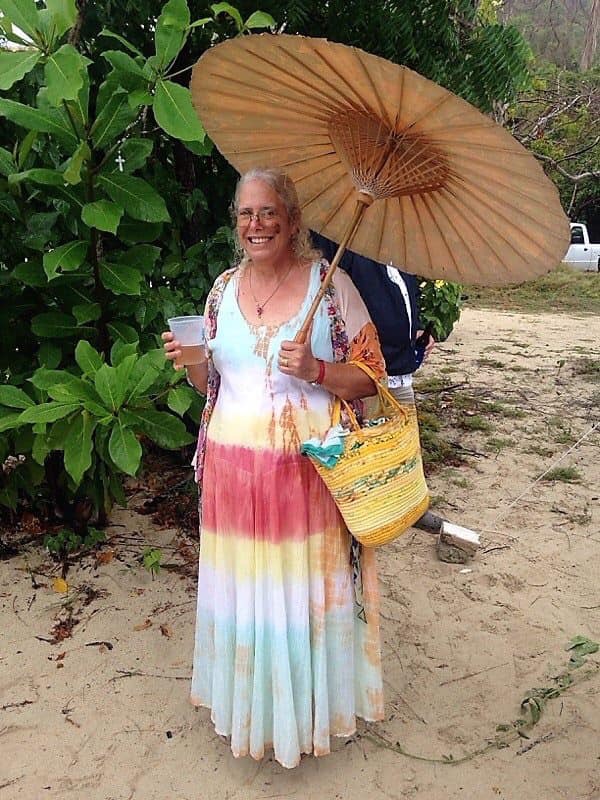 Posted March 22, 2019 It is with tremendous sadness that we announce the passing of one of our longtime residents and dear, dear, friends, Carol Richardson. Carol passed away earlier this week. As we all know, Carol was a tremendously talented artist that contributed her work to the WICA Annual Auction every year. Almost without fail, her beautiful, sought after work, attracted the highest bid for the auction.
Please join friends and family of our dear neighbor and friend Carol Richardson as we celebrate her artistic talents, her heartfelt love of animals, Water Island and a life well lived.
We will be gathering at Heidi's Honeymoon Grill at 10:30 am on Sunday, March 24th for a Celebration of Life.
Here is Carol's obituary from the Virgin Islands Daily News.
2019 Water Island St. Patty's Day Parade
ATTENTION! Be On The Lookout!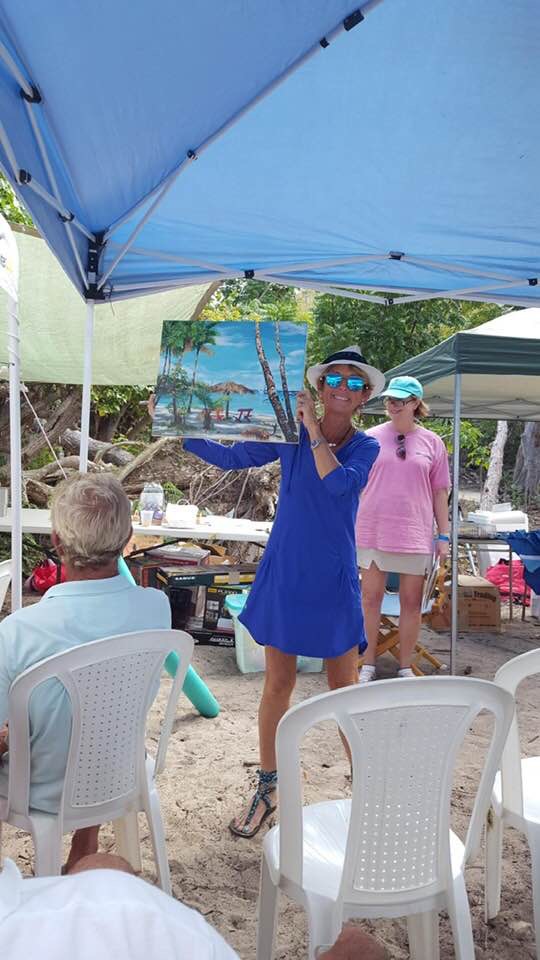 Christi Roselle showcasing Carol Richardson's 2019 WICA Auction painting
Posted March 18, 2019 Be on the lookout for the following people on Water Island;
The following people are part of the notorious "2019 WICA Annual Auction Success" This tireless group was led by none other than Mercy "You WILL Volunteer" Blosser.
Julie Northup, Christine Black, Jan Robinson, Sue Bubb, Lee Passios, Missy Petit, Jane Wherren, Mary Dunakey, Bob Blosser, Dennis Murphy (AKA "The Auctioneer!),Ginny Spencer, Bob Bohr, Glen Petit and his "gang" of volunteers to set the tents, Martha Langkammerer, Christi "Vanna Has Nothing On Me!" Roselle, Chuck Gidley, Robin Marion, Eric Bubb, Cristy Carli, Jane Schaffer, Christy Jacobson, AND the infamous "Heidi "I cater an amazing lunch" Erwig.
There are probably some other names that have escaped notice because they are so stealthy.When they are identified we will report their names so all know who they are!
When you see these people give them a HUGE "Thank You!" for making the 2019 WICA Annual Auction an unbelievable success.
Also, thank you to ALL of the Water Island residents and friends that contributed their talent and items. Please don't forget all of the successful bidders at the auction.
Well Done To ALL! THANK YOU!
Auction Time!
Posted March 2, 2019 Drop off times are 10AM to 3PM on the below dates!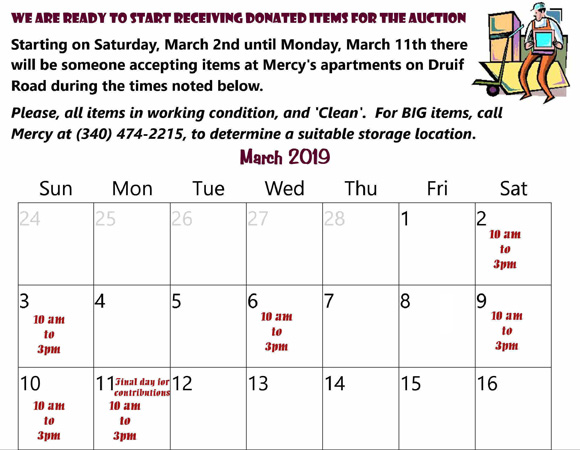 Water Island Administrator Visit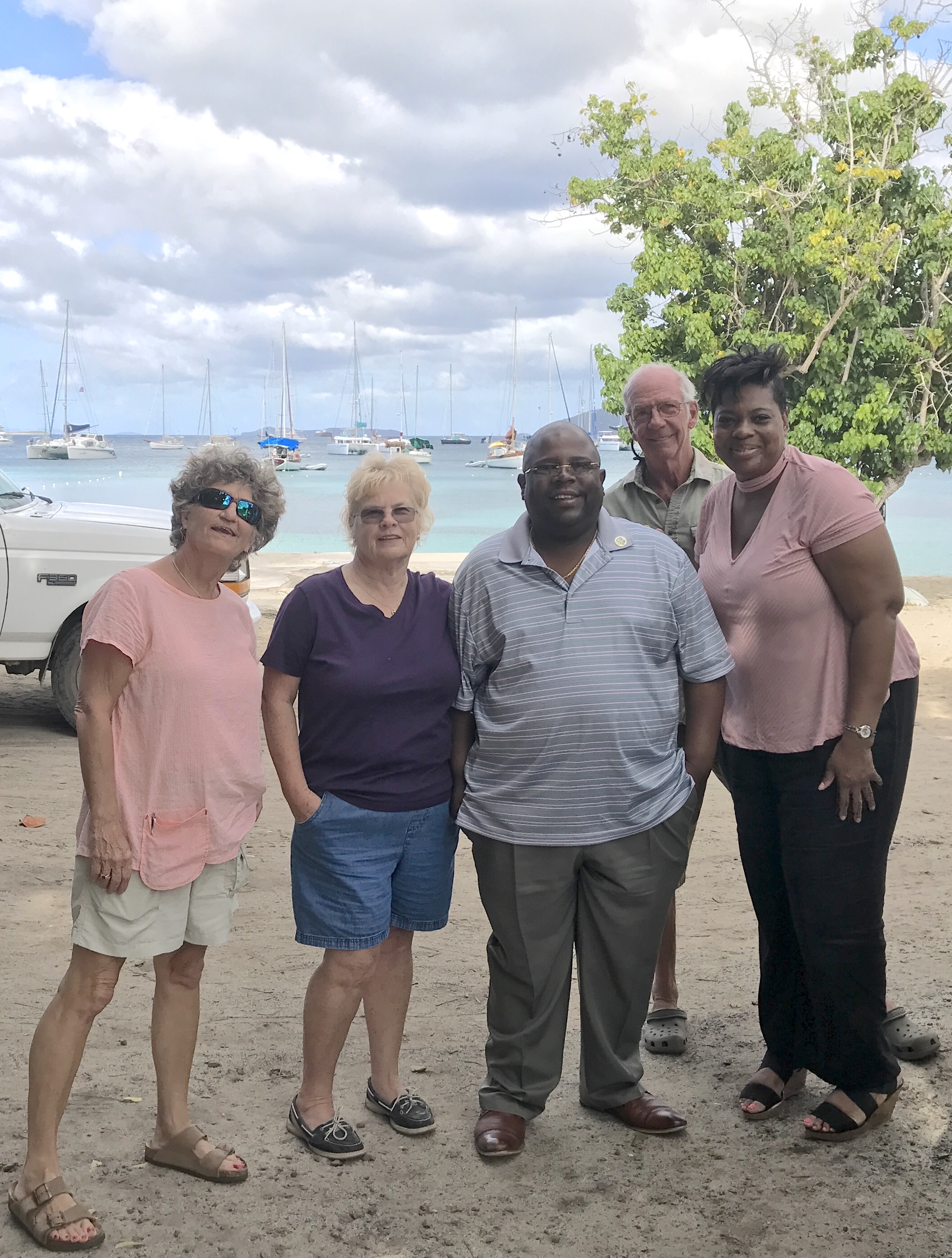 Posted February 22, 2019
Last week, we reached out to our Water Island Administrator, Mr Avery Lewis. His office set up a tour for this morning to meet and understand different Water Island Issues.
Ms Sheryl Manning, Mr Lewis' Assistant Coordinator accompanied our Administrator on the tour.
David Roselle, Mary Dunakey and I met them off the 8am ferry and gave a little history of WI, including the role of DOI, Hotel Lease and transfer to the US VI in 1996.
Mary provided a copy of the transfer deed and the shorelines act regarding development.
We drove up Providence Hill, went to the Government offices (Burkhart House) and then proceeded to the fire house. We showed them the WISAR ambulance and firetruck provided by fundraising efforts plus the firetruck from the deJongh Administration.
From there we proceeded down past Ackley's house to Fort Hill road, up to the fort; onto Deep Water dock and transfer site. David spoke about the abandoned car efforts and partnerships in the past as well as road projects on Overdown, Fort Hill, and Deep Water Dock Road (plus discussed maintenance of the dump road with assistance from volunteers, never ending)
We then travelled to see Flamingo Bay quickly and then to the beach. It was early and nothing was open yet. We told them they would not recognize this beach on cruise ship days once the ships dock.
Mr Lewis expressed concerns for the beach environment and noted DPNR is in charge. We had a half hour to chat about priorities.
All 3 of us emphasized that Water Islanders work hard to maintain our island and do as much as we can. What we need from the GVI is permission and help with major issues.
He assured we would have many visits and he or staff would come over as often as needed or possible. We all expressed thanks for coming so quickly.
I think this was a positive first step to work with the new administration
PLEASE NOTE---Congresswoman Stacey Plaskett is planning to come over in March for a Town Meetng—date TBA
Senator Stedmann Hodge plans on a WI visit on March 17th (he was here in July to meet WI)
A BIG Thank You!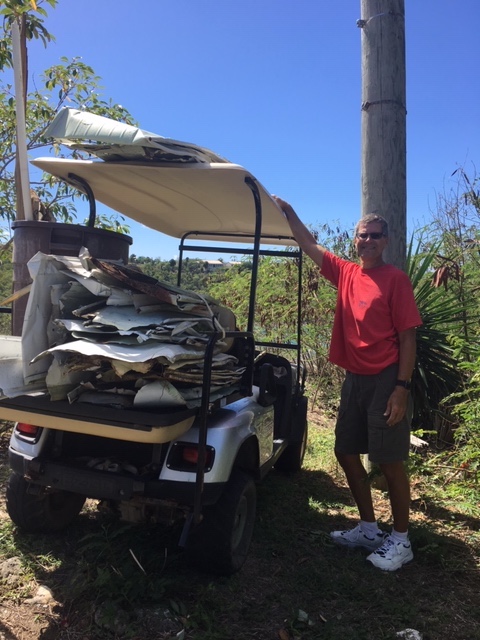 Posted February 12, 2019 Thanks to Scott Rak for cleaning up hurricane debris and litter from the ravine right before the beach road. A much nicer view for residents and guests as you drive from the ferry dock
THE ANNUAL AUCTION IS BACK!

Annual WICA Meeting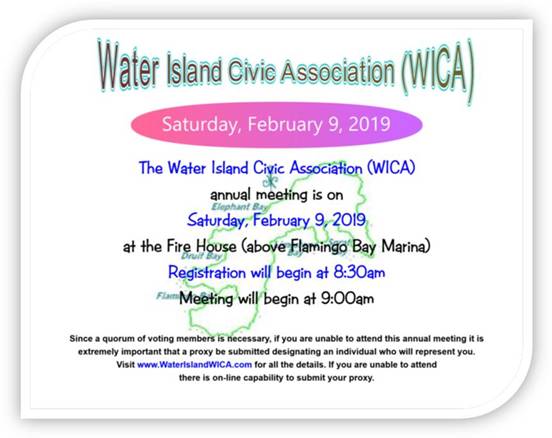 Posted January 11, 2019 If you are a Member of WICA please go to the "Members" area on this site to view and download the 2019 WICA Annual Meeting Package and also to submit your proxy vote for the meeting if you cannot attend.